Jimmy Carter National Historic Site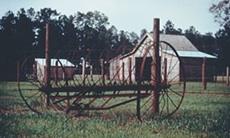 Whether you are a Carter enthusiast, a researcher, or just curious how a small town influenced a young boy who would become the president of the most powerful nation in the world, odds are you will find a visit to the Jimmy Carter National Historic Site interesting. The history and culture of this rural community can provide a look into why the Carters' ties to Plains, Georgia, have endured the stresses of public life; yet remain as strong as they were decades ago.
A visit to the site provides an opportunity to explore the historic resources and rural southern culture that had an influence in molding the character and political policies of Jimmy Carter.
The site includes: The Plains High School, The Historic District of Plains, The Plains Train Depot, The Carter Boyhood Farm, and The Carter Private Residence and Compound, which is not open to the public.