John F. Kennedy Memorial Plaza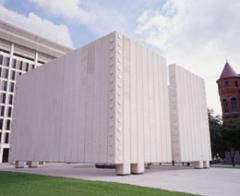 The assassination of President Kennedy changed the city—and the world—forever. As a tribute to this extraordinary man, John F. Kennedy Memorial Plaza was dedicated on June 24, 1970. In the years since it has become an integral part of Dallas' urban landscape and cultural heritage.
While aesthetically simple, the intent of the Kennedy Memorial is often misunderstood. Renowned American architect Philip Johnson designed the structure as a thoughtful piece of art intended for reflection and remembrance. Johnson's design is a "cenotaph," or open tomb, that symbolizes the freedom of John F. Kennedy's spirit.
The memorial is a square, roofless room, 30 feet high and 50-feet-by-50-feet wide. Visitors enter the room after a short walk up a slight concrete incline that is embossed with concrete squares. Once inside, visitors see a low-hewn granite square in which John Fitzgerald Kennedy's name is carved. The letters have been painted gold to capture the light from the "floating" white column walls and the pale concrete floor. These words are the only ones in the empty room.
Dallas commemorated the 30th anniversary of the Kennedy Memorial with a comprehensive conservation treatment that restored the monument to its original vitality. With the support of the City of Dallas and Dallas County, the Museum launched a full-scale restoration project in the summer of 1999. Philip Johnson guided the restoration process, which was implemented by Phoenix I Restoration and Construction Ltd. Numerous local suppliers donated the labor, materials and equipment required to return the memorial to its original beauty.