John Jay Homestead State Historic Site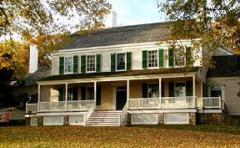 John Jay co-authored the Treaty of Paris, which ended the Revolutionary War, and the Federalist Papers, which supported ratification of the U.S. Constitution. He served as President of the Second Continental Congress, U.S. Secretary for Foreign Affairs, first Chief Justice of the U.S. Supreme Court, and the second governor of New York State.
The land where John Jay lived his later years was purchased in 1703 by his maternal grandfather, Jacobus Van Cortlandt. By 1800 Jay had acquired, by inheritance and by purchase, 750 acres of property near Bedford, New York. In 1799 he began construction of a comfortable 24-room farmhouse. He moved there in 1801, after his retirement from politics. Tragically, Jay's wife Sarah died only months after moving to their new home. John Jay never remarried and lived as a gentleman farmer until his death in 1829. His son William (1789-1858) inherited the house and farm; he later became a leading figure in the struggle to end slavery. William's son John Jay II (1817-1894) inherited the property and upon his death it was given to his son Colonel William Jay (1841-1915). The Colonels' daughter, Eleanor Jay Iselin (1882-1953) was the last of the family to use the property as a full time residence.
The historic site now encompasses sixty-two acres, including lovingly-tended formal gardens, magnificent woodland walks, rolling meadows, and a cluster of 19th century farm buildings. An 1820's schoolhouse and an 1830s barn are open for touring.