John Wornall House Museum & Herb Garden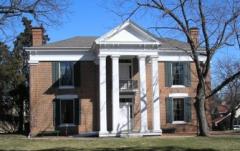 Now engulfed by Kansas City's Brookside neighborhood, the John Wornall House originally sat on the Missouri frontier, the center of a 500-acre farm. During the 1864 Battle of Westport, both Confederate and Union armies occupied the sturdy brick farmhouse and used it as an emergency field hospital. This significant part of the Kansas City landscape is listed on the National Register of Historic Places.
Today guided tours take visitors through the house, where they experience the daily life of a prosperous, pre-Civil War family. At the end of the tour, enjoy the museum gift shop filled with a wide array of unique items. Visitors may also wander through the Museum's historically accurate herb and perennial gardens. The museum features special events throughout the year including: children's classes, adult workshops, changing exhibits, and Christmas tours.