Joplin Museum Complex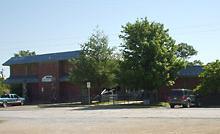 The Everett J. Ritchie Tri-State Mineral Museum boasts one of the world's most exceptional collections of lead and zinc ores as well as other minerals found in the Tri-State District. This museum interprets the geology and geochemistry of the area and illustrates mining processes and methods used from the 1870s through the 1960s.
The Dorothea B. Hoover Historical Museum emphasizes the growth and development as the result of the mining in the Tri-State District. On display are assorted historical items from Joplin's mining era including a circus room, a child's playhouse (children are invited in with adult supervision), a 1927 American LeFrance fire engine and Victorian furnishings, textiles, and a doll collection.