Kenilworth Historical Museum & Research Center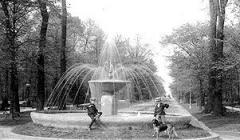 The Kenilworth Historical Society was founded in 1922 to preserve and present the history of this early planned community of Kenilworth, Illinois, incorporated in 1896. The mission of the Historical Society is to collect, preserve, research, exhibit and interpret items that illustrate the history of the village and its people and to place them in context with nearby communities, and state and national events.
Kenilworth, Illinois is located between the villages of Wilmette and Winnetka, sixteen miles north of the Chicago loop. The Society is located in the Stuart Memorial Building, 415 Kenilworth Avenue in the center of the village, directly east of the train station and across the street from the Kenilworth Assembly Hall. Kenilworth Avenue is accessible from Sheridan Road on the eastern end and Green Bay Road on the western end.