Kennesaw Mountain National Battlefield Park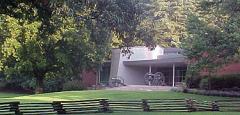 It was a swelteringly hot and clear Monday, June 27, 1864, when some of the heaviest fighting of the Atlanta Campaign occurred here.
Preserved are historic earthworks, cannon emplacements and monuments. Interpreted here are the historic events where over 5,350 soldiers were killed in the battle fought here from June 19, 1864 through July 2, 1864.
Visitors can tour the battlefield and inspect original artifacts from the battle at the Visitors Center.