Kenosha Public Museum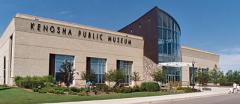 Established in 1933, the Museum's collections have grown to over 70,000, including almost 1,000 works in the fine arts collection. Exhibit programming includes world cultures, Native Americans, zoology, geology, fossils, and fine and decorative arts.
The Wisconsin Story is an immersive experience placing the Museum collections in an exciting multi-disciplinary adventure. Visitors will experience the change in climate, the development of a variety of ecosystems, the evolution of plants and animals, and the life of Native Americans as it happened in our area over hundreds of thousands of years.
Highlights of the first floor exhibits include coral reefs and primitive monsters of the deep, the Ice Age and the eventual melting of glaciers, the Schaefer mammoth dig, the Hebior mammoth replica, and the story of Native Americans of Wisconsin.
The Schaefer mammoth, excavated by the Museum, is significant because it documents the earliest interaction of mammoth and man east of the Mississippi River. The actual Schaefer mammoth bones are set in a special floor display exactly as found on the Schaefer farm in Paris, Wisconsin. Further research on the Schaefer mammoth bones tells us that this site is one of the oldest sites of human habitation in all of the Americas.
The Hebior mammoth was excavated in Kenosha County, Wisconsin and is the largest, most complete mammoth excavated in North America. A life-size replica of the Hebior mammoth was purchased by the Friends of the Museums for this exhibit.