Kykuit The John D. Rockefeller Estate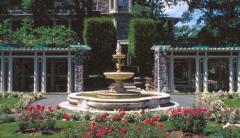 Kykuit is a preeminent Hudson Valley landmark. For architecture, remarkable gardens, art, history, and spectacular scenery, a trip to Kykuit is essential.
This hilltop estate was home to four generations of the Rockefeller family, beginning with the philanthropist John D. Rockefeller, founder of Standard Oil. His business acumen made him, in his day, the richest man in America. Now a historic site of the National Trust, this landmark has been continuously and meticulously maintained for almost 100 years.
On each tour, your guide will share many stories that highlight the lives of Rockefeller family members and their contributions to philanthropy, conservation, business, government, and the arts.
Your choice of several tour options allows you to tailor a visit that appeals to your interests and your available time. Each tour begins at the Visitor Center at Philipsburg Manor, where you'll board a shuttle bus for a short ride to the estate,