Lake Geneva Museum Of History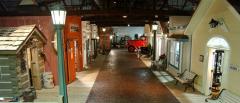 The Main Street exhibit traces the development of Lake Geneva from 1870 to 1930. The west side of the street has farm implements and an assortment of businesses. The east side and its variety of facades includes a Marineland gallery, featuring the anchor of the Lucius Newberry, discovered in 1981, 90 years after it had sunk in Geneva Lake. Highlights include a log cabin with Potawatomi Indian artifacts, a blacksmith shop, and a firehouse with an 1890 horse wagon and a 1947 Pirsch Pumper.
The museum also has artifacts from the historic Geneva Hotel (1912-1969) designed by Frank Lloyd Wright, a number of historic forms of transportation, from an overland stagecoach from the 1860s to an iceboat. It also has an exhibit on the military.