Lake Wales Depot Museum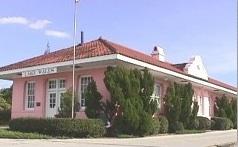 Constructed of brick and covered with pink stucco, the Depot at 325 S. Scenic Highway was built as a passenger station by the Atlantic Coast Line Railroad in 1928 at an approximate cost of $51,000. Replacing service at the original depot, the new location was chosen to relieve traffic congestion in the downtown area. A freight room and loading platform were added in 1938.
Passenger service to Lake Wales ceased in 1954. In 1966, Seaboard Air Line and Atlantic Coast Line merged to form the Seaboard Coast Line Railway. In 1974, freight service shifted to the West Lake Wales station, and trains no longer stopped at the Lake Wales depot. However, the Spanish style building with the red tile roof remained a landmark of the post-boom era in Lake Wales.
Since opening in 1976, the Depot has evolved into a resource center for the collection, conservation, exhibition, and study of materials pertaining to the history of Lake Wales, Florida. It is the goal of the Lake Wales Museum and Cultural Center, popularly known as The Depot Museum, to serve as the means by which the historical record of Lake Wales --both past and present-- may be preserved and shared with the citizens of the community.