Liberty Bell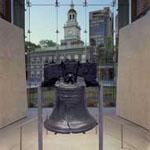 The Liberty Bell's inscription conveys a message of liberty which goes beyond the words themselves. Since the bell was made, the words of the inscription have meant different things to different people. When William Penn created Pennsylvania's government he allowed citizens to take part in making laws and gave them the right to choose the religion they wanted. The colonists were proud of the freedom that Penn gave them. In 1751, the Speaker of the Pennsylvania Assembly ordered a new bell for the State House. He asked that a Bible verse to be placed on the bell - "Proclaim LIBERTY throughout all the Land unto all the inhabitants thereof" (Leviticus 25:10). As the official bell of the Pennsylvania State House (today called Independence Hall) it rang many times for public announcements.
The old State House bell was first called the "Liberty Bell" by a group trying to outlaw slavery. These abolitionists remembered the words on the bell and, in the 1830s, adopted it as a symbol of their cause.
Beginning in the late 1800s, the Liberty Bell traveled around the country to expositions and fairs to help heal the divisions of the Civil War. It reminded Americans of their earlier days when they fought and worked together for independence.
In 1915, the bell made its last trip and came home to Philadelphia, where it now silently reminds us of the power of liberty. For more than 200 years people from around the world have felt the bell's message. No one can see liberty, but people have used the Liberty Bell to represent this important idea.
The Liberty Bell Center is located on Market Street between 5th and 6th Streets. The building is open year round, though hours vary by season. The Liberty Bell Center offers a video presentation and exhibits about the Liberty Bell, focusing on its origins and its modern day role as an international icon of freedom. Taped presentations about the history of the Liberty Bell are offered in a dozen languages for the convenience of foreign visitors. The Liberty Bell itself is displayed in a magnificent glass chamber with Independence Hall in the background.