Los Alamos Historical Museum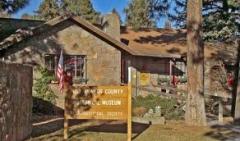 Located at the site of the Manhattan Project laboratory, this museum provides exhibits on this project, as well as on Native Americans and geology.
The Los Alamos Historical Museum is dedicated to preserving, protecting and interpreting the history of Los Alamos.  Housed in the guest cottage of the Los Alamos Ranch School, a favorite place of Gen. Leslie Groves during the Manhattan Project , the museum features award winning exhibits on area geology, anthropology, the Ranch School, and the Manhattan Project.