Lovely Lane Museum & Archives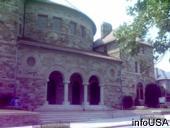 Lovely Lane United Methodist Church houses a museum to the history of this denomination in America.
The museum is housed on the ground floor of Lovely Lane United Methodist Church. Considered the Mother Church of American Methodism, Lovely Lane is listed on the National Register of Historic Places due to its unique architecture. The church was designed by Stanford White in 1884 as a centennial monument to the founding of the Methodist Episcopal Church.  The original Lovely Lane Meeting House was located in downtown Baltimore at 206 E. Redwood Street. It was at that site that the Methodist Episcopal Church was organized at the 1784 Christmas Conference. There, Francis Asbury and others were ordained by Bishop Coke and sent "to reform the nation and spread scriptural holiness over these lands."