Manzanar National Historic Site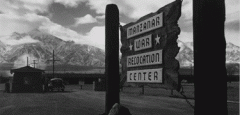 Manzanar War Relocation Center was one of ten camps where Japanese American citizens and resident Japanese aliens were interned during World War II.
Manzanar National Historic Site was established to preserve the stories of the internment of nearly 120,000 Japanese Americans during World War II and to serve as a reminder to this and future generations of the fragility of American civil liberties.
This land has been a War Relocation Center, an apple farming community, a cattle ranch, and home of the Owens Valley Paiute. Together, these occupations illustrate Manzanar's long history of recurring human settlement, habitation, and displacement.
Extensive exhibits span a century of history, from 1885 to the present, with a focus on the World War II relocation and internment of Japanese Americans from the west coast. They include a large scale model of Manzanar War Relocation Center crafted by former internees, historic photographs and audiovisual programs, and artifacts.
In addition, a large graphic includes the names of over 10,000 Japanese Americans who spent all or part of World War II at Manzanar.