Mark Twain Birthplace State Historic Site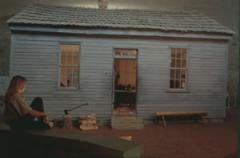 Details of Samuel Langhorne Clemens' remarkable life are interpreted through exhibits and audio-visual programs at the museum. Along with the two-room cabin in which he was born, the museum features first editions of Mark Twain's works, a handwritten manuscript of The Adventures of Tom Sawyer and furnishings from his Hartford, Conn., home.
In the village of Florida, a red granite monument marks the original location of the cabin. Surrounding the state historic site is the 2,775-acre state park, providing opportunities for camping, hiking, swimming and fishing and access to Mark Twain Lake.