Mary Ball Washington Museum & Library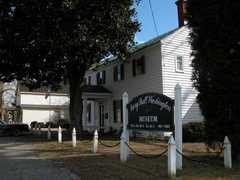 The Mary Ball Washington Museum and Library complex is located in the heart of Lancaster County on Virginia's Northern Neck. The Museum/Library was established in 1958 and took the name Mary Ball Washington to honor the mother of the nation's first president. Mary Ball was born in Lancaster County, just eight miles from the museum. The museum seeks to recapture the stories and the rich history of the people of Virginia's Northern Neck.
The Museum's collections include several historically significant buildings in the village of Lancaster Court House. Every item, every aspect, has a story and a connection proving that history is neither static nor carved in stone. New stories surface, like arrowheads long buried, providing constant shifting of information that gives vitality to history.
Visitors can partake in activities offered through the museum, including educational programs, exhibits, living history presentations, tours, research and writing.