Maymont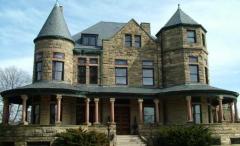 By 1893, the Dooleys were living in their new 12,000 square-foot, 33-room home, which they named "May Mont," a name which combines Mrs. Dooley's maiden name and the French word for hill.
Among historic house museums, the Maymont Mansion is rare in that no intervening families or adaptive conversions separate visitors from the original owner's 32-year occupancy. Despite the fact that no architectural drawings or other early records of its construction and design have survived, its physical integrity and ongoing research has provided a solid base of documentation. Within six months of Mrs. Dooley's death in 1925, the mansion was opened to the public as a museum. The upper floors' interiors and a large original collection remained relatively untouched until the beginning of the restoration in 1970. Since the nonprofit Maymont Foundation took responsibility for the estate in 1975, extensive conservation and restoration have greatly enhanced its authenticity, condition, and presentation.
Thus today, Maymont Mansion is a well-preserved document of Gilded Age design and the taste of well-educated, cosmopolitan millionaires. The house also illustrates the dynamic interplay between server and served, working class and upper class and black and white through a compelling exhibition in its restored belowstairs rooms – the culmination of a decade-long research project that was completed in 2005. Visitors are also invited to tour the impressive gardens that stretch to the James River, the children's farm, the carriage collection, and the nature center.