Medford Historical Society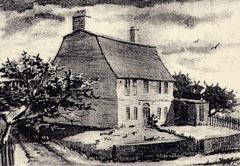 This local historical society was organized in 1896 by concerned citizens from the city of Medford, Massachusetts. Their purpose was to collect and preserve the history of this historic city, to correct the myths that had grown up over the years, to build a historical library, to collect the artifacts of local history, and to celebrate historical anniversaries.
The Society's collections include hundreds of items from Medford's long and lively history including town reports, city directories, genealogical materials, school records, maps, photographs, postcards, documents, art works, military artifacts, textiles, and many, many, many other objects and writings. The Society also maintains a library of reference materials to help with Medford history research.