Midway Village Museum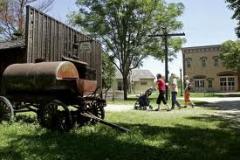 The museum depicts American life during the Victorian era through a historic village, gardens, and museum exhibits.
Midway Village Museum, a 137-acre museum campus, is Rockford's history museum. The main museum center features both permanent and temporary exhibits. The museum also features a historical village representing 1900 America. The Village includes 26 structures and heritage gardens, representing a rural community during the era of 1890-1910. During the months of May through August, interpreters in authentic period clothing lead tours and depict life and customs of the times during weekend events.