Milton Hershey School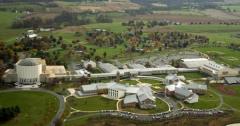 Milton Hershey School began as a dream and vision shared by chocolate magnate Milton S. Hershey and his wife, Catherine (Kitty). Unable to have children of their own, Milton and Catherine Hershey decided to use their wealth to create a home and a school for orphaned boys. On November 15, 1909, together they signed the Deed of Trust establishing the Hershey Industrial School (renamed Milton Hershey School in 1951).
The following year, the first four boys were enrolled and began to live and attend classes in The Homestead, the birthplace of Milton Hershey. From these humble beginnings, the School grew. In 1918, three years after Mrs. Hershey died, Milton gave his entire personal fortune to the School. Mr. Hershey lived to see the School expand its campus and its enrollment. He continued to be involved in the School's operations until his death on October 13, 1945. He has been quoted as having said, "The School was Kitty's idea. If we had helped a hundred children it would have all been worthwhile."