Model T Automotive Heritage Complex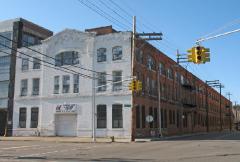 The Ford Piquette Avenue plant is well preserved and largely unchanged from its original 1904 appearance. The exterior of the building is immediately recognizable as the same building shown in early photographs - still in its original red brick, complete with original fire escapes and windows.
Various Model Ts and other Piquette-era Fords are on display throughout the second and third floor. Several dozen interpretive panels explain the history of the building and the people who worked there.