Mondak Heritage Center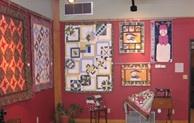 The Center houses a MonDak Pioneer Town Museum in its lower level with a street scene depicting an early MonDak region pioneer town. Upstairs are two art galleries, two libraries, and a gift shop featuring the work of regional artists, area authors and other unique gift items. All proceeds go to benefit the Center, which is operated by the MonDak Historical & Art Society, a private, not-for-profit, membership-based organization.
The Society was originally formed in 1967 and opened a temporary museum and art gallery known as the J.K. Ralston Museum and Art Center in 1972 in the "old hospital" in Sidney, Montana. Named after Ralston, the famed western artist and Richland County native, the Ralston Center operated until 1984, when the museum was moved to the recently completed "MonDak Heritage Center," its permanent and present location at 120 3rd Avenue SE in Sidney, Montana.