Motown Historical Museum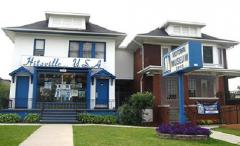 The museum exhibits trace the roots of Motown's remarkable story and chronicle its impact on 20th century popular culture and musical styles. The story begins with Berry Gordy, Jr. and a small house in Detroit that he christened, Hitsville USA (now home to Motown Historical Museum). The story continues as Motown evolves into a major entertainment enterprise that was among the most diverse and influential in the world.
The exhibitions include a fascinating collection of historical photographs, artwork, music, costumes and other memorabilia from this booming musical era. Each item tells a story – from the $800 loan given to Berry Gordy, Jr. by the Gordy family savings club (the Ber-Berry Co-op) to produce his first record – to the explosive popularity of Motown's artists throughout the world.