Motts Military Museum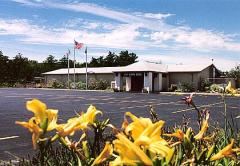 Motts Military Museum was founded by Warren E. Motts of Groveport, Ohio, who established the museum as a 501 (C) 3 not for profit tax exempt educational organization.
Originally established in the Motts family's 1870 residence, the museum moved in 1999 to a more modern 5,100 square foot facility with near four acres of land. The new building and grounds were given to the Museum through the generosity of Columbus Attorney Robert R. Richards who was a former special agent of the War Department during World War II. Over the next several years the museum grew in leaps and bounds. Donations poured in from veterans and their families. The museum secured many vehicles, military aircraft, and a Higgins Boat from World War II. In 2001, the museum broke ground for a new wing and as funds were available the museum's volunteer crew, many of whom were professional carpenters, electricians and other skilled tradesmen, worked on the 5,200 square feet area. By 2006, the entire structure was completed and paid in full. Currently items are being selected and installed in this new wing.