Mount Pulaski Courthouse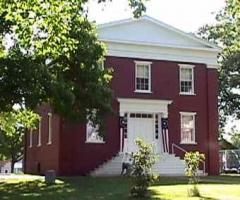 The two-story brick building stands at the center of the Mount Pulaski public square. The first floor, divided by a hallway, contains six rooms representing county offices; the second floor houses a courtroom, jury room, and judge's chambers. The grounds are beautifully shaded by large trees. In 1978 the Courthouse was added to the National Register of Historic Places.
Visitors to Mount Pulaski Courthouse are provided guided tours of the recreated county offices and courtroom. The building is not disabled accessible. On a panel behind the building are photos of the interior and an outline history.