Mount Rushmore National Memorial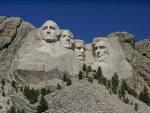 Mount Rushmore National Memorial is host to almost three million visitors a year from across the country and around the world. They come to marvel at the majestic beauty of the Black Hills of South Dakota and to learn about the birth, growth, development and the preservation of our country. Over the decades, Mount Rushmore has grown in fame as a symbol of America-a symbol of freedom and a hope for people from all cultures and backgrounds.
All the cultures that make up the fabric of this country are represented by the memorial and surrounding Black Hills. One of the most important gifts we can give our visitors at Mount Rushmore National Memorial is an understanding and love for our nation's history and cultures and an appreciation of the importance of caring for that legacy.