Mountain Meadows Massacre Site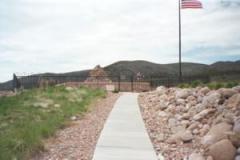 Amidst threats of war and previous persecution, the Mormons of the Utah territory perceived the emigrants as a threat and layed seige. Under a flag of truce and led to believe the militiamen had arrived to save them, the emigrants were made an offer to leave all of their possessions to the Indians and be conducted safely back to Cedar City. They accepted the conditions and began their trek. Seventeen children too small to walk to Cedar City, some mothers, and the wounded were placed in the wagons. These wagons were followed by the women and older children walking in a group; they were followed by the men, walking alongside their armed militia protectors.
After traveling approximately 1.5 miles, strung out and separated by a small rise in the ground and shrubbery, isolating each group from the others, the emigrants were massacred by Indians and militiamen. The only known survivors were the seventeen small children, who were taken into Mormon homes. The remains of the victims were hurriedly thrown into shallow depressions and ravines and covered with whatever was available. These remains were subsequently scattered over the immediate area by storms and wild animals.