Museum At Central School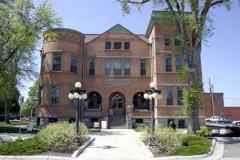 The Museum is housed in the historic Central School building, which first opened its doors in 1894. In nearly 100 years of serving the educational needs of the Flathead Valley, Central School had been a high school, a junior high school, a grade school, and housed classrooms for Flathead Valley Community College.
It is a sturdy brick and stone structure, one of the few remaining examples of classic Richardsonian Romanesque architecture, with most of it's original hardwood floors, wainscoting, and tin-plate ceilings still in place. The building was boarded-up and threatened with demolition in 1991, but the City of Kalispell renovated the structure at a cost of 2.4 million dollars, and since late 1999, has leased it to the Northwest Montana Historical Society for exhibits, performances, and community meetings.