Museum Of The City Of New York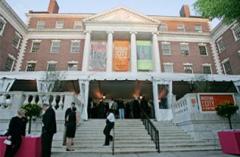 The Museum of the City of New York's name says it all. Their mandate is to explore the past, present, and future of New York City and celebrate its heritage of diversity, opportunity, and perpetual transformation; they present a variety of exhibitions, public programs, and publications, all investigating what gives New York its singular character.
In this year alone, the museum has presented exhibitions on the golden age of New York baseball, the city's transformation under planner Robert Moses, and the hip-hop fashion revolution in New York. Recent public programs have included a talk by Pulitzer-Prize winning author Robert Caro, an interior design symposium on New York's great residential spaces, and a musical tribute to the rich heritage of Yiddish theater and its influences on Broadway. Through educational programs this year, children built their own model bridges based on New York's, conducted research projects for New York City History Day, and learned about New York's immigration stories through original hands-on workshops.