National Air And Space Museum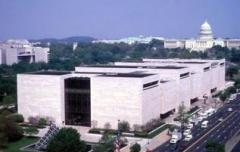 This museum, which opened in 1976, maintains the largest collection of historic air and spacecraft in the world and is also a vital center for research into the history, science, and technology of aviation and space flight, as well as planetary science and terrestrial geology and geophysics.
The Museum has two display facilities. The National Mall building in Washington, D.C. has hundreds of artifacts on display including the original Wright 1903 Flyer, the Spirit of St. Louis, the Apollo 11 command module, and a lunar rock sample that visitors can touch. The Steven F. Udvar-Hazy Center in Chantilly, Virginia, displays many more artifacts including the Lockheed SR-71 Blackbird, Boeing B-29 Superfortress Enola Gay and Space Shuttle Enterprise.