National Buffalo Museum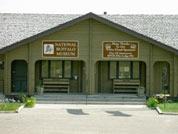 The mission of the North Dakota Buffalo Foundation (NDBF) is to foster awareness of the cultural and historical significance of the North American bison. By operating the National Buffalo Museum, maintaining a live bison herd, and conducting educational programs, the NDBF fulfills this mission; plays a vital role in local, state, and national tourism; and helps to promote the bison industry. Together, the National Buffalo Museum and bison herd contribute to the distinctive character of Jamestown, the "Buffalo City".
The National Buffalo Museum and bison herd are located at the Frontier Village, near the intersection of Highway 281 and Interstate 94 (exit 258). The museum also includes a gift shop containing and amazing assortment of truly distinctive and tasteful items with a bison theme. The associated bison herd currently numbers about 30 head and includes White Cloud – an extraordinarily rare, true albino "White Buffalo" – and her two calves, Princess Winona and Dakota Thunder.