National Constitution Center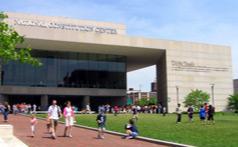 The National Constitution Center was created by the Constitution Heritage Act in 1988. The Center is an independent, non-partisan, non-profit organization dedicated to increasing awareness about the Constitution and its relevance in Americans' daily lives.
On September 17, 2000, the Center broke ground at 525 Arch St. in Philadelphia's Independence National Historical Park – America's most historic square mile – 213 years to the day the U.S. Constitution was signed. The Center is the first-ever museum dedicated to the U.S. Constitution.
The National Constitution Center is both a museum that attracted one million visitors in its first 15 months of operation and an engine of civic and constitutional education for children and adults.