National Museum Of Civil War Medicine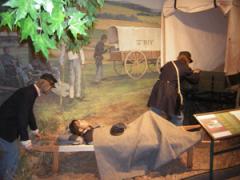 The museum tells the history of medical innovations during the Civil War.
The National Museum of Civil War Medicine is the premier center for the preservation and research of the legacy of Civil War medical innovation.
The Museum was established in 1990 by a group of scholars and medical professionals who desired to share their interest in Civil War medicine with the public.  What began as a private collection of medical artifacts has expanded beyond the doors of the original site to include two satellite museums; the Pry House Field Hospital Museum and Clara Barton's Missing Soldier's Office; the Letterman Institute of professional development; and the NMCWM Press, a publishing center.