National Naval Aviation Museum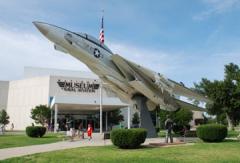 Some of the most technologically advanced airplanes to ever fly off an aircraft carrier reside in this naval aviation museum.
In the National Naval Aviation Museum's 300,000 square feet sit 150 aircraft of Navy, Marine Corps, and Coast Guard origin. Its collection includes a number of A-4F Skyhawk jets that served in Vietnam and flew with the Blue Angels. A flight simulator and IMAX theatre bring the history of naval aviation to vivid life.
Experience hands-on history at the National Naval Aviation Museum located on board Pensacola Naval Air Station. See over 150 beautifully restored aircraft representing Navy, Marine Corps and Coast Guard aviation. Experience the thrill of flight in the Flight Simulators, catch all the drama and power of the IMAX Theatre, and refresh with a tasty lunch in the Cubi Bar & Café.