National Road/zane Grey Museum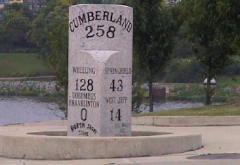 This modern museum has three major exhibit areas. First is the National Road, early America's busiest land artery to the West. The National Road stretched from Cumberland, MD. to Vandalia, IL. Begun in 1806, the "Main Street of America" was the only significant land link between east coast and western frontier in the early 19th century. A 136 foot diorama of the National Road plus many objects illustrate this theme.
Second is Zane Grey, the "Father of the Adult Western." The Zanesville author wrote more than 80 books. His study is recreated plus many manuscripts and other memorabilia are displayed.