Naval War College Museum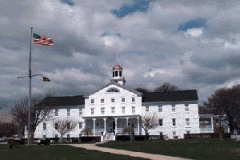 Located in the former Newport Asylum for the Poor, a National Historic Landmark, the Museum's themes are the history of naval warfare, particularly as studied at the College, and the naval heritage of Narragansett Bay—a tale that begins with the nation's colonial roots. Its collection consists of items relating to these subjects that are perceived to be of value to scholarship, and it forms the core for exhibits throughout the College and for educational outreach projects.
Besides permanent exhibits on the College, the genesis of the Navy in the region, and the evolution of permanent naval installations from the late nineteenth century to the present, the Museum features short-term special exhibits relating to College curriculum and to current naval-related topics. In general, Museum exhibits identify milestones in the evolutionary development of war at sea; explain the significance of the sea as a factor in the formulation and the attainment of national policy objectives; describe the character, educational philosophy, and mission of the College; and chronicle the eventful relationship of the U.S. Navy with Narragansett Bay and its people.