Nevada Museum Of Art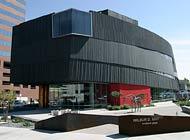 The organization was founded in 1931 as the Nevada Art Gallery by Dr. James Church and Charles F. Cutts. With Cutt's bequest of his Ralston Street home and collection in 1949, the Gallery obtained a facility and the foundation of a permanent collection.
The Nevada Art Gallery remained largely a volunteer organization until 1975, when the Board of Trustees hired two art historians and began to improve upon the quality of the collection, exhibitions, and programming. In 1978, the Nevada Art Gallery purchased the Hawkins House, a national historic landmark building. Located on Court Street overlooking Reno's Truckee River, the house was commissioned in 1911 by Nevada banker and lawyer, Prince Hawkins. The Hawkins House was designed by Elmer Grey, a prominent Los Angeles architect who also designed the Huntington Mansion (now the Huntingon Library and Gallery), The Pasadena Community Playhouse, and the Beverly Hills Hotel. Upon moving into the new facility, the organization's name was changed to the Sierra Nevada Museum of Art.
In 1983, the Trustees established an operating endowment to contribute to the annual operating budget. After obtaining a new 15,000 sq. ft. facility, the organization changed its name once again to the Nevada Museum of Art. The E. L. Cord Museum School classroom was added to the building three years later.
The new NMA, designed by Will Bruder, opened in Spring 2003.