Neville Public Museum Of Brown County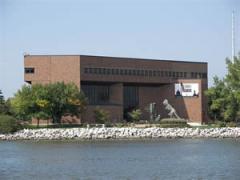 The central exhibit of the musum is 'On the Edge of the Inland Sea', a 12,000 year walk through time that leads visitors on a journey from the end of the last Ice Age to the mid-20th century. It uses thousands of artifacts, historic film footage, photographs and graphics to explore the history of Northeast Wisconsin.
Included are its geology, biology and ecology; Native American life; French, British and Yankee settlements, as well as the later wave of European immigration; and the development of lumbering, farming, business and industry as Green Bay grew into a modern city. The entrance to the exhibit is a replication of a melting glacier as it recedes back over the landscape.
The Discovery Room features hands-on exhibits for children as young as pre-school age.  It includes a series of fourteen Discovery Baskets (each with a theme, such as insects, dinosaurs, or art) with props, books, toys, etc. plus instructional activity sheets.