New Era One Room School House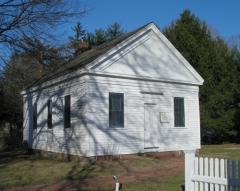 This restored one-room school is furnished with period furnishings, books and artifacts, and contains albums of photos and history of area schools.
The New Era School was built in 1884 and served students in grades 1 through 8 until 1956. The facility then served as a community building for the Missouri Run area. It was later turned over to the Wood County Association of Retired School Employees. In 1991, the Living Heritage Museum Project, a newly formed volunteer organization, acquired the building for restoration.



The building was dismantled and moved 7 miles from Missouri Run to the Mineral Wells School campus for reconstruction. The New Era School has maintained the integrity of its time with original desks, pot-bellied stove, slate chalkboards, oiled floors, pump, outhouse, and coal shed. Additional items make the schoolroom appear ready for Reading, 'Riting, and 'Rithmetic.