New York Historical Society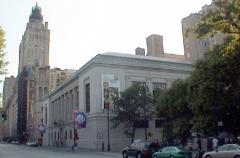 Founded in 1804, the New York Historical Society's holdings cover four centuries of American history, and include one of the world's greatest collections of historical artifacts, American art and other materials documenting the history of the United States as seen through the prism of New York City and State.
Collection strengths include local history of New York City and State; colonial history; the Revolutionary War; American military and naval history; religions and religious movements, 18th and 19th century; the Anglo-American slave trade and conditions of slavery in the United States; the Civil War; American biography and genealogy; American art and art patronage; the development of American architecture from the late 18th to the present; and 19th and 20th century portraiture and documentary photographs of New York City.
The collections include 2 million manuscripts, 500,000 photographs, 400,000 prints, 350,000 books and pamphlets, 150,000 architectural drawings, 20,000 broadsides, 15,000 printed maps, 10,000 newspapers and 10,000 dining menus.
On permanent display are John James Audubon's watercolors for The Birds of America, Hudson River School masterpieces by Thomas Cole and Asher Durand, and 132 ornate, stained-glass Tiffany lamps from the Neustadt collection.
Visitors can also learn about New York's regional history and art through audio guides, information plaques, and interactive computer terminals.