New York State Historical Association & Research Library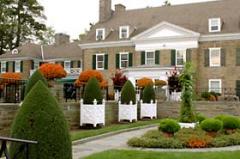 The New York State Historical Association was founded in 1899 by New Yorkers who were interested in promoting greater knowledge of the early history of the state. They hoped to encourage original research, to educate general audiences by means of lectures and publications, to mark places of historic interest with tablets or signs, and to start a library and museum to hold manuscripts, paintings, and objects associated with the history of the state.
Today, the collections and programs continued to expand and a separate library building was constructed in 1968. In 1995 a new 18,000 square foot wing was added to Fenimore House to house the Eugene and Clare Thaw Collection which is one of the nation's premier collections of American Indian Art. In 1999 in recognition of our world class collections we changed the name Fenimore House Museum to Fenimore Art Museum.