Old Economy Village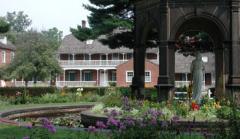 In 1804, the followers of the Separatist George Rapp (1757-1847) emigrated to America from Iptingen (near Stuttgart) in southwest Germany seeking religious and economic freedom. Nearly 800 farmers and craftsmen followed their leader to Butler County, Pennsylvania where they built the town of Harmony. Ten years later they migrated westward to Posey County, Indiana founding a second town named Harmony, which today is known as New Harmony.
Established in 1824, the Economy was known worldwide for its piety and industrial prosperity. The Harmonists developed a simple, pietistic lifestyle based upon the early Christian Church. They turned over everything they owned to the Harmony Society when they became members. Everyone worked together for the good of the Society and received, in turn, what he or she needed to live simply and comfortably. Because they expected Christ's Second Coming to Earth at any moment, they adopted celibacy in 1807 in order to purify themselves for the Millenium---Christ's 1,000 year reign on Earth. The Harmony Society successfully "placed the manufacturer beside the agriculturalist," an accomplishment held in high regard in the early nineteenth century. National leaders like Thomas Jefferson viewed this as the ideal plan for America's economic and political future. This ideal would be a national economy that would thrive in both agriculture and industry, independent of foreign influence.
Today it is a National Historic Landmark and visitors can tour the complex and interpret the unique material culture of the Society. Special Village tours are given where visitors can learn about the society's communal organization, its architecture and communal planning, and their German heritage.