Old Fort Niagara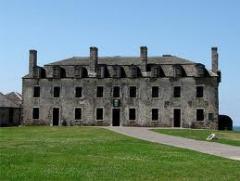 Fort Niagara was originally built in 1678 to protect the interests of New France in America, but later became a significant military outpost during the French and Indian War and the War of 1812.
Standing on a bluff above Lake Ontario not far from Niagara Falls, Old Fort Niagara has dominated the entrance to the Niagara River since 1726. The colorful history of the site began even earlier, and continues to the present day.
The fort played an important role in the struggles of France, Great Britain, and the United States to control the Great Lakes region of North America, and also helped shape the destinies of the Iroquois (Six Nations) peoples and the nation of Canada.
Today Old Fort Niagara is a National Historic Landmark and New York State Historic Site that welcomes more than 100,000 visitors every year. It offers a unique collection of original military architecture and fortifications from the 18th Century and the 19th Century, as well as living history events and programs, historical exhibits and collections, archaeology, and education.