Oregon Military Museum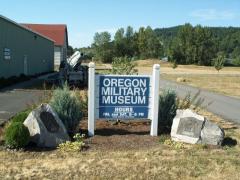 As stated in 1976, the purpose of the Oregon Military Museum is to stimulate scientific, literary and educational matters as they relate to State and National Military Departments (All Services); to train citizen soldiers and their communities and to accept contributions for preservation of events concerning the Oregon National Army and Air Guard and the Oregon citizen members of all the National Military Departments. Pursuant to these purposes, the Foundation has, since 1976, devotedly assisted the Military Department, State of Oregon in operating the Military Museum at Camp Withycombe, Clackamas, Oregon (near Portland).
The Foundation hopes to preserve forever the memory, sacrifice, and devotion to duty of those Oregonians who have served in any branch of the armed forces of the United States, whether in the National Guard, or active or reserve components. Contributions are gratefully accepted and are fully deductible on itemization under IRS Code. The Foundation has no paid members and freely contributes their time and energy to this effort and is always looking for help and contributions of artifacts, cash, and anything that can be readily turned into cash. All our income comes this way.