Pearl S. Buck House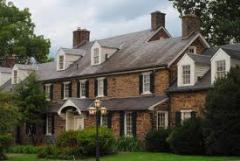 The Pearl S. Buck House, home to the celebrated author and her international family for 38 years, now promotes her legacy.
Discover the legacy of the first American woman to receive the Pulitzer and Nobel Prizes for literature. Learn about the life of author, activist, and humanitarian Pearl S. Buck by visiting the 68 acre estate, with beautiful gardens, greenhouses, cottage, milk house, and renovated barn. The 1825 stone farm house is an excellent example of nineteenth century architecture.
The historic home holds a rich collection of Pennsylvania country furniture alongside Chinese decorative screens, a silk wall hanging presented by the Dali Lama of Tibet, Chen Chi paintings and works by celebrated artists Redfield and Baum.