Physick House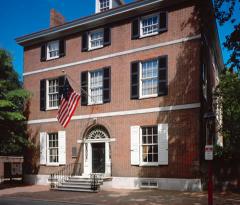 Dr. Physick took up residence in the house in 1815 after separating from his wife, Elizabeth Emlen Physick, and lived there until his death in 1837. One of the foremost surgeons of the time, Dr. Physick was among the few courageous doctors who remained in the city to care for the sick during the yellow fever epidemic of 1793. Among his many patients were John Adams' daughter, Dolly Madison, Dr. Benjamin Rush, and Chief Justice John Marshall. President Andrew Jackson consulted Dr. Physick about lung hemorrhages and was told to stop smoking.
Many of Physick's medical accomplishments were years ahead of his time. He pioneered use of the stomach pump, used autopsy as a regular means of observation and discovery, excelled in cataract surgery, and was responsible for the design of a number of surgical instruments and operative techniques. Dr. Physick was affiliated with America's first hospital, Pennsylvania Hospital, and was one of the most sought-after medical lecturers of the 19th century. His lectures prepared a generation of surgeons for service throughout America. It is because of his status as a teacher that he was dubbed the "Father of American Surgery" In addition to beautiful period rooms, the second floor of the Physick residence is devoted to a medical museum depicting the amazing career of Dr. Physick, as well as a collection of medical instruments from that era.
The square, four-story brick Physick House is the only free-standing Federal townhouse remaining in Society Hill.