Pleshakov Piano Museum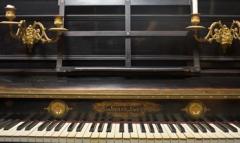 Visitors can enjoy time with the hosts at the museum, internationally acclaimed duo pianists and soloists, Vladimir Pleshakov and Elena Winther. The Pleshakov Piano Museum features several different displays, including early and modern keyboard instruments ranging from the days of Michelangelo to the days of Mozart and Beethoven, Chopin and Liszt. These are veritable "time machines" creating a living link with the past historically, emotionally, artistically and spiritually. The museum is even equipped with pianos made famous by association with Nicholas I of Russia, Queen Victoria, the White House, Clementi, Field, and Vienna Philharmonic.
Guided tours and mini concerts are offered daily at the museum.