Point State Park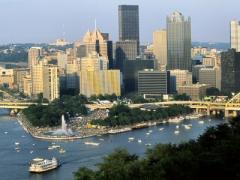 Nicknamed the "Forks of the Ohio," the park is not only the site of a confluence of major rivers, but was a pivotal turning point in the French and Indian War as well.
In the heart of downtown Pittsburgh, the Allegheny and the Monongahela rivers meet at Point State Park to form the Ohio River. The park is also the historic site of what was once Fort Duquesne. Erected in 1754, the fort that gave the French control of the Ohio Valley until 1758, when they abandoned it in advance of the coming assault by General John Forbes and 6,000 troops. The British hastily constructed Fort Pitt on the site, the most extensive fortification by the British in the American colonies. Fort Pitt served to open up the frontier to settlement and Pittsburgh became the "Gateway to the West."
Today, the park boasts a museum to the fort, walking promenades with spectacular views of downtown Pittsburgh, and a 150-foot tall fountain.