Princeton Historical Society At The Bainbridge House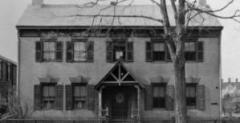 Bainbridge House serves as the Historical Society's headquarters, including spaces for temporary and permanent exhibitions, a small museum shop, a library and staff offices. The exhibition spaces and shop in Bainbridge House are open to the public Tuesday through Sunday from 12 to 4 PM. The library is open Tuesdays and Saturdays 1 to 4PM.
Bainbridge House is one of the oldest surviving buildings in Princeton still on its original foundation. It is also one of the area's best-preserved examples of mid-Georgian architecture. Located on Nassau Street, the town's busiest and most historic thoroughfare, Bainbridge House is situated directly across from Princeton University.